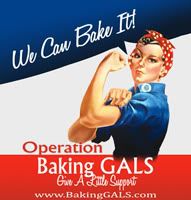 From the
Operation Baking GALS
website:
Baking GALS (GALS stands for Give A Little Support) is a group of volunteer bakers from around the country who bake and ship homemade goodies to our heroic military men and women who are currently deployed in a war zone. Our goal is to show our support and send a little bit of home to remind them that we appreciate all that they do for our freedom.
I am leading Team Milk & Cookies again over at Operation Baking GALS. PE works with the soldier's brother. The CEO of the company has offered to donate milk (shelf stable) to go with the treats the members of my team sends. She donated 48 cartons last time. (You can click
here
to read about my past rounds with Operation Baking GALS.)
If you want to "do" something but you do not want to bake, the troops can always use the basics such as socks, deodorant, Gold Bond powder, etc. or they enjoy receiving jerky or hot sauce/other condiments to help those MRE's (Meal, Ready-to-Eat) have a little more flavor. Books, magazines, and blank greeting cards are a few other ideas.
Lyndsay Leybold, the Baking GALS administrator posted on Facebook, "
With the holiday season quickly approaching us, I want to make sure that we make our military's extra special and make sure they get spoiled... So I think we need to make sure we have HUGE turnouts in the coming months (in # of teams and #'s on the teams!) So I think we need to PROMOTE us. Therefore - I am willing to send (for FREE, although donations are never turned down) as many brochures, business cards, and patches as you need. Post them anywhere they will let you and pass them out to anyone who will listen. Leave a comment here with what you would like and I will be in contact with you. Let's spoil these men and women who are sacrificing for us!! Also, now is the time to talk about us here on FB and on your blogs.
" This is a way you could help if you don't have the time and/or resources to send a package--help spread the word with the brochures and business cards.
I hope you join me!