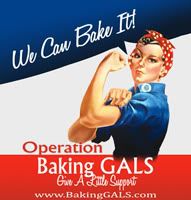 I had 10 wonderful ladies join Team Milk & Cookies for this round of Operation Baking GALS. We can ship from September 1 through September 11. September 2 - JD mailed her package of lemon cookies, chocolate-cherry-walnut cookies, pseudoreos, M&Ms, nuts, and gum. Tomorrow - RM will be sending a box filled with hard candy, homemade granola, magazines, puzzle box & pen, oatmeal gorp cookies, peanut butter crispie bars, almond mocha brownies, gum, raisins, soothe eye drops, toothpaste, body soap, and Battle of the Sexes card game.
I am making my treats today and will mail them later in the week. I am making an assortment of Rice Krispie treats (recipes to come) and
Crunchy Granola
.
As other participants update me with what they ship I will post additional updates. I am also hoping to get my crap together and start posting more frequently. Who would think that a run away cat, broken washing machine, hunting husband, three kids starting school (each a different week), editing (very loose use of the term) a book, and making baby gifts could throw a person off so much. Sure listed here it looks like a lot but it isn't as though they all happened at the same time. Anyway, as stated. . . hopefully I can get it together and do better. Wish me luck.