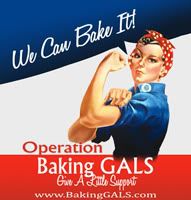 From the
Operation Baking GALS
I didn't really have any updates in the middle like I did last time. I had 12 team members. Of the 12, 6 emailed to let me know what they shipped. It sounds like our soldier will be getting some wonderful treats. For my package I made more
Granola
, Granola Cookies (recipe below), Oatmeal Cookie Bars (recipe below), and Moo made chocolate chip cookies.
Here is what was sent by my team this time.
CS shipped one box with two kinds of cookies.
KC shipped one package with German chocolate cookies, sugar cookies, candy and socks along with cards from the class of elementary school children with special needs that she works with.
PB shipped two packages each with two containers of cookies.
SW shipped one package with Halloween sugar cookies, gluten-free molasses cookies, fudge brownies, autumn mix candy corn, hard candy & suckers, Halloween bubbles & spider rings!
CH shipped one package in which she included caramel apple cookies, chocolate chip peanut butter cookies, Amish friendship bread, chocolate chip banana bread, skinny pumpkin muffins, Rice Krispy treats with candy corn, Slim Jims, Cracker Jacks, cocoa mixes, popcorn balls, cotton candy, and some candy (suckers, Tootsie Rolls, Laffy Taffy, jawbreakers).
AF sent one box that included snickerdoodles, browned butter chocolate chip cookies, Laffy Taffy, Starburst, and candy corn.
I am very appreciative to all those who have signed up with me to send some "home" to the troops.
Below are the recipes mentioned above.
~ + ~ + ~ + ~ + ~ + ~ + ~ + ~ + ~ + ~ + ~
Granola Cookies
from Lynn's Kitchen Adventures
Print Recipe
3 cups granola
12 oz melted chocolate baking bar or chips
Combine granola and melted chocolate. Scoop onto greased or silicone mat lined baking sheet; refrigerate until set.
~ + ~ + ~ + ~ + ~ + ~ + ~ + ~ + ~ + ~ + ~
Oatmeal Cookie Bars
from One Ordinary Day
Print Recipe
1/2 cup canola oil
1 cup light brown sugar
1/2 cup granulated sugar
2 large eggs
2 Tbsp milk
2 tsp pure vanilla extract
1/2 tsp kosher salt
3 cups old-fashioned rolled oats
1 3/4 cups whole wheat flour
1 tsp baking soda
1 bag of cinnamon chips
sea salt to sprinkle on top
Preheat oven to 350. Line a 13x9 pan with foil, so that the ends hang over the long sides of your pan. (Easier to lift the bars out later.) In a large bowl, combine oil, sugars, eggs, milk, vanilla, and salt. Beat on medium speed for 2-3 minutes or until sugars have dissolved. In another bowl, combine oats, flour, baking soda, and cinnamon chips. Stir until just combined. Add to liquid mixture and stir with a wooden spoon until combined. (The batter is very thick.) Transfer to prepared pan. (Use dampened fingers to spread dough into the corners of the pan.) Sprinkle sea salt on top. Bake 15-20 minutes or until golden. Remove from oven and cool until firm. Lift bars out using foil "handles" and cut into bars. Store tightly covered.
~ + ~ + ~ + ~ + ~ + ~ + ~ + ~ + ~ + ~ + ~