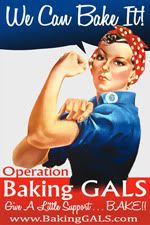 Yes, I am speaking to you. Yes, you there. The one that reads but rarely/never comments. I want to be a Team Leader for
Operation Baking GALS
; HOWEVER, I don't know anyone in the military that is
currently deployed in a war zone
. I would love to head up a team to send goodies to someone near and dear to your heart. If you have a loved one (heck or even someone you merely like) in the military that is
currently deployed in a war zone
and would like to have goodies shipped his or her way please let me know.
Round 20 will ship in June. All I would need to get signed up is a little write up about who they are and where they are stationed and what baked goods they enjoy. Other information could be if they happen to have troop members that don't receive items, or if their birthday is coming up so cards can be included. . .whatever information you feel would be helpful in getting desired items shipped to them.
I would love to have several individuals that I could use for upcoming rounds. If you don't want to leave information in the comments, please
email
me.
Thanks for your help!